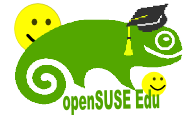 The openSUSE-Education project has been setup to support schools and universities using openSUSE. The project will create additional software packages, additional installation repositories and give community based support.
The project members would like to invite everyone interested to the next IRC-Meeting in #opensuse-edu on Tuesday
2007/11/27 18:00 CET (17:00 GMT)
The first steps already done:
More details can be found on the project's Wiki pages
Lars Vogdt
Both comments and pings are currently closed.