openSUSE 12.2 Milestone 2 is out
openSUSE 12.2 Milestone 2 is out
20. Mar 2012 | Jos Poortvliet | No License
Those following openSUSE development closely probably know that the 2nd milestone on the way to openSUSE 12.2 was planned for the beginning of this week. And indeed you can now download it from software.opensuse.org/developer. As usual, a list of the most annoying bugs is being maintained and you can see the list of bugs and/or file a new one in Bugzilla. Read on for some details on the release and how to help!
Factory development
openSUSE, as you might know, is being developed in Factory. Factory is a project on the openSUSE Build Service against which you can build a package. If it works fine, you can submit it to Factory and keep it working there.
[caption id="attachment_12939" align="alignright" width="300" caption="Plymouth Merge request: Accepted!"]
[/caption]
Grub2 and Plymouth
Many new features are currently being developed in Factory. About two weeks ago, for example, Michael Chang announced the plans for Grub2 support in openSUSE and asked for help in testing and improving the integration in openSUSE (being tracked here). Related to this is the work on Plymouth and flicker-free boot in openSUSE (wiki here). Plymouth's merge request got accepted so it is on its way to you for openSUSE 12.2!
GCC 4.7
Another call for help came when Coolo asked if anyone was interested in leading the efforts to bring GCC 4.7 to Factory. Dimstar took the challenge and you can see the progress in his home project as well as in his latest status update mail to the ML.
Other features
Grub2, Plymouth and GCC 4.7 are of course only three random upcoming features for openSUSE 12.2, part of a much bigger list. For example, the openSUSE ARM team is targeting 12.2, work is being done on USRMerge and the openSUSE Boosters are working on software installation (appstores) in openSUSE. And you can expect the usual latest LibreOffice (of course!), GNOME, KDE and with some luck the brand new Razor-Qt desktop environment to be part of our next release.
Help out!
[caption id="attachment_12919" align="alignright" width="300" caption="List of failures in Factory - help get rid of them!"]
[/caption]
Of course you're wondering how you can help. This can start with testing. Go to software.opensuse.org/developer, download Milestone 2 and try it out on your system! You can then check the most annoying bugs to see if your problems are there, if not, you can see the list of bugs and/or file a new one in Bugzilla. If the bug you find is very serious, add it tho the list of annoying bugs!
If you are a packager (or want to be one!) there is of course also plenty to do. Fixing bugs in packages is a nice way of learning the ways of packaging (see the Packaging portal for documentation).
Stephan "Coolo" Kulow did a call for help, mentioning the bad shape openSUSE-Factory was in, asking whoever can to help fix issues in the list of build failures. You can read about how to do this here, via a simple set of stepps which in openSUSE are commonly known as 'BURP-ing'.
[caption id="attachment_12917" align="alignright" width="150" caption="Factory Workflow"]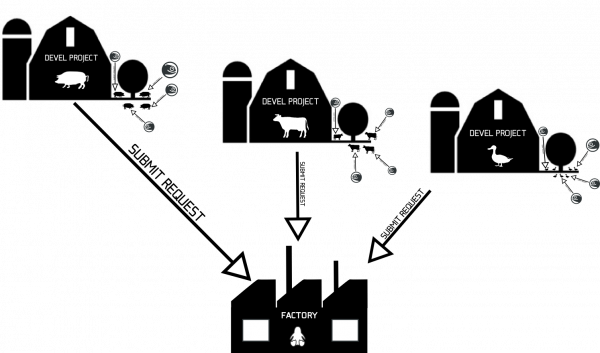 [/caption]
Dimstar asked anyone able and willing to help out with GCC 4.7 , I'll just quote him:
So: don't be shy! Grab one of the still failing packages in home:dimstar:gcc47, try to fix it up and submit it (either to home:dimstar:gcc47 or directly to its devel project). If you identify that the failure is not due to GCC 4.7 (there is a bunch of > 150 packages failing in openSUSE:Factory too after all), then you don't have to stop there of course and can still go ahead and fix the package :P (admittedly, I did not do that and concentrated on pure gcc caused failures these days).
You can find out how to help with the USRMerge here and if you're already a packager for openSUSE, don't forget to get your packages in Factory or start to maintain one!