IPv6 day 6 June 2012: time to do it again
IPv6 day 6 June 2012: time to do it again
18. May 2012 | Lars Vogdt | No License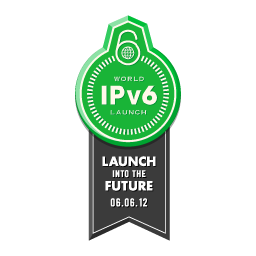 Like last year, openSUSE will participate again on the coordinated launch of the next-generation Internet protocol IPv6 on June 6, 2012.
Joining the Internet Society and several major Internet companies like Google, Yahoo and Facebook, openSUSE shows again its readiness for the industry-standard technologies including the new standard protocol for the Internet, Internet Protocol version 6 (also known as IPv6).
As we started already last year and did not disable the services since then, this time is an easy win for us: all our services, including wiki, news,  documentation, forums and of course OBS are already reachable via IPv6 and IPv4. Several thousand users have been using our services via IPv6 every day since then.  This year, the openSUSE-Education project also joins us and provides their major services also via IPv6.
So no time to hide any more: try it out and become part of the next generation Internet Protocol users around the world! Your preferred Operating System already supports IPv6 since years now - and a lot of websites and other participants, too.